ARCHITECTURE OF MEMORY – GRAZ SESSIONS
ninatodorovic

As much as I would like to finally close the Architecture of Memory art project and to start something new and completely different, it seems that this is not letting me go or I am the one not ready to let it go.
I keep finding those under construction sites and walls with "imprints" of old, demolished houses, marking their previous existence in so many places and in so many ways.
This time I stumbled upon those sites in Graz, where I am currently in the Styria Artist in Residence program.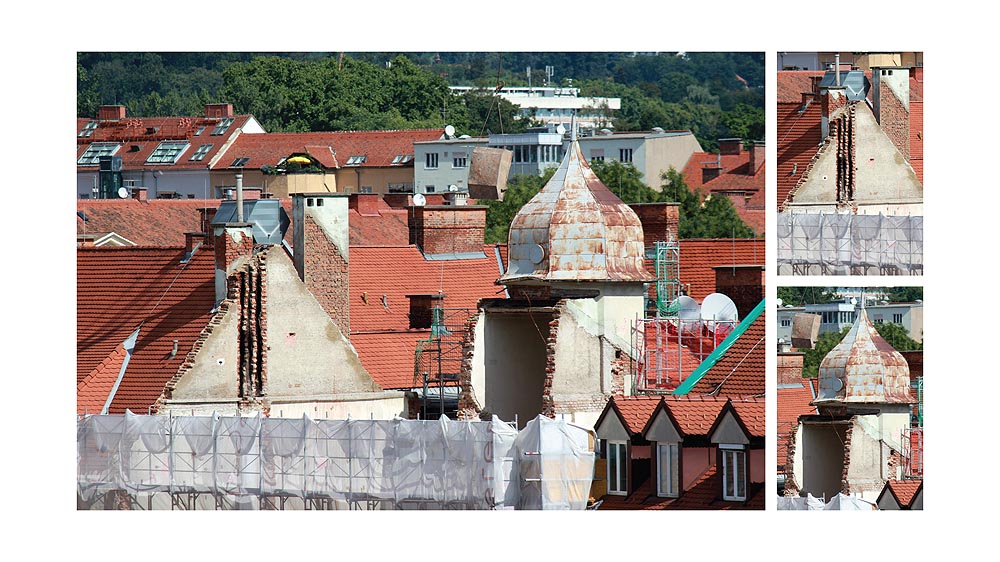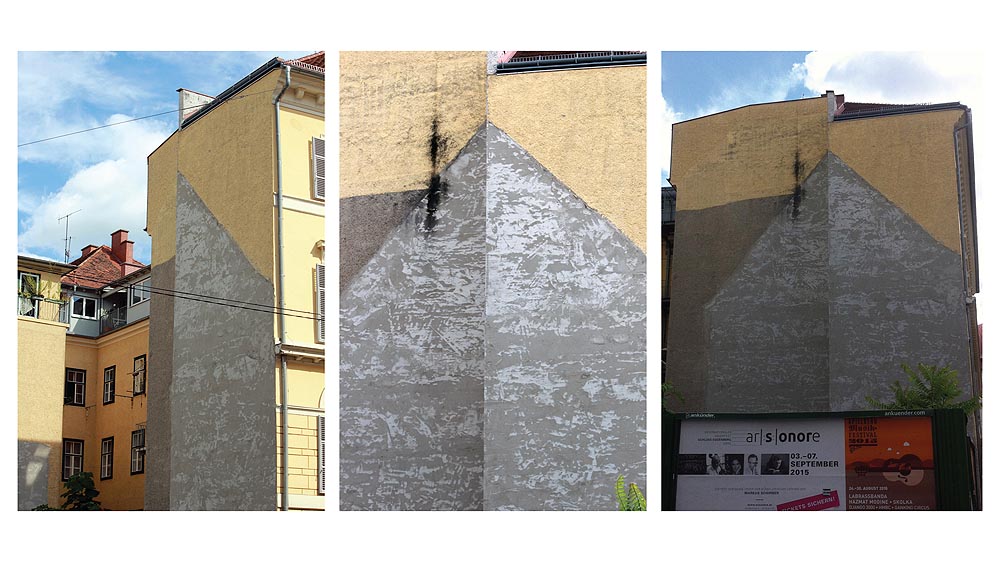 And, it seems it is not enough. While browsing printed stuff left in the apartment where I am staying, I found a book entitled EUROPA ERLESEN, dedicated to the city of Graz. As it happens, I opened the book somewhere in the middle, and I have read the following text. It seems it was waiting for me to read it and to connect it with my project.
GERHARD M. DIENES
(*1953)
The Old Town in Danger
During this time, the old part of Graz was in serious danger of being badly damaged by thoughtless demolition and alterations. Thus the former Palasi Khuenberg, for example, (Sackstrasse 18, nowadays the City Museum) with its three-part, tiled roof should have given way to a multi-storey car park. However, in 1972 the action committee "Save the Old Town" was founded and in 1974 the Grazer Old Town Preservation Law was passed. Consciousness of the old town had been awakened. Now the old town's "roofscape" was seen as beautiful and worth protecting, the saddle-backed and hipped roofs were described and marketed to tourists. The picturesque tangle of roofs, the closely-packed houses, the long densely-built groups of houses and the multiply-articulated tiled roofs are, today, one of the most important attractions of the Grazer old town.

I can only wish this kind of consciousness awakes in the minds of city government, in my home city, before it changes its face for good, and becomes unrecognizable, despite the fact that we have already stepped deeply into the transition, with no possibility to return.